As a member of the #1 association in the radon industry, you'll receive access to great perks and discounts, and up-to-date news and information. Your membership also helps us to support important policy and legislative initiatives that impact your business.
If you're an AARST member, sign in to your account to get your discounts!   
If not, please consider joining AARST today. 
Who is AARST?   AARST is Community!
AARST has been a membership association for over 30 years, supporting radon professionals in their business enterprises, as well as advocating public policy.
Public policy is one of the four pillars that undergird AARST's effectiveness and provide for the future. Advocacy work at the federal, national, state and local level drives legislators' and executive branch leaders' awareness of radon as a problem; these policymakers have the power to enact and enforce the laws and codes that fuel demand for measurement, mitigation and radon-reducing new construction. Read more about AARST Policy work HERE.
AARST's mission statement has been our driving purpose throughout the decades.  
Explore Your Discounted Perks:
Free Education Webinars for Continuing Education Credits
Tools and Materials
Radon Insurance
Automotive/Fleet
Business Management
Travel
Technical Support/ANSI-AARST Standards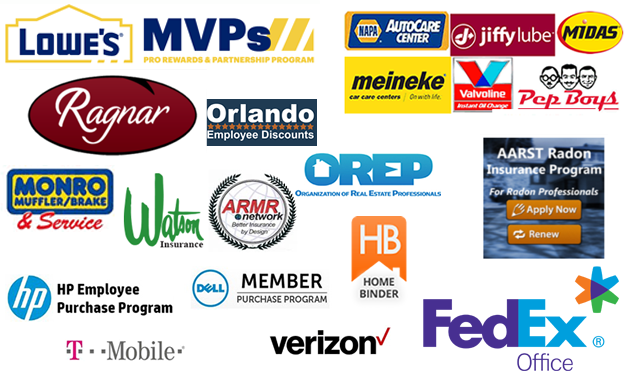 Company logos featured above represent only some of the entire discount partner program. Offers may change without notice.
What Membership Gives You
Members enjoy membership in AARST-affiliated chapters (available in many states), professional discounts, radon-specific communications including our monthly newsletter, triennial magazine, radon research resources, national policy advocacy, and volunteer and leadership opportunities.  
AARST is a nonprofit, professional organization of members who are dedicated to the highest standard of excellence and the ethical performance of radon measurement, soil gas mitigation, and transfer of information for the benefit of members, consumers, and the public at large.