Vol. 8 No. 8 August 2022
News and Events For the Radon Professional

AARST Symposium Keynote Speaker;  Wallace L. Akerley, M.D.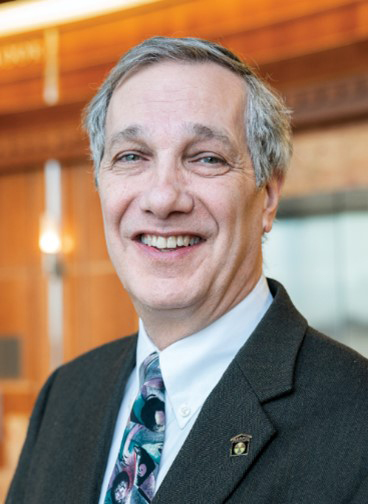 Professor of Medicine, Division of Oncology
Since 2002, Dr. Akerley has served as Director of Thoracic Oncology, Huntsman Cancer Institute, at the University of Utah in Salt Lake City. He has also held the positions of Director of Clinical Trials and Outcome Studies for HCCP (Huntsman Cancer Care Program), Senior Director of Clinical Research, Director Utah Cancer Registry, and Senior Director of Community Oncology Research. Presently he is Chair of the PRMC (Protocol Review & Monitoring Committee), Director of the Lung Cancer Disease Center of Excellence, and member of the NCCN's Steering committee and Non-Small Cell Lung Cancer Panel. Dr. Akerley exclusively specializes in the treatment of lung cancer patients. Given that radon is the second leading cause of lung cancer, he is a strong proponent of radon testing and has pursued radon legislation in the State of Utah. He is active in radon research, radon surveys, and publications in the area of radon. AGENDA HERE

October 24 – 26 with (new) Trade Show hours on October 23-25
Hyatt Regency Bellevue, Washington
Lots of Exhibits
Social and networking opportunities
Multiple educational tracks and (new) Workshop Wednesday
Free C.E.
Growing our voice, saving lives…gives focus to the work we are all doing to save lives.
(The 36th annual International Radon and Vapor Intrusion Symposium is an in person event.)
The 2022 American Radon Policy Campaign drive continues. We want to thank those stepping up to the call!
Your generous contribution for 2022 continues the very important work we do as an industry to continue to have experienced representation in Washington DC and state capitols across the US. It will help immeasurably to tell the story of radon risk and explain what actions can help reduce risk (and which ones increase risk).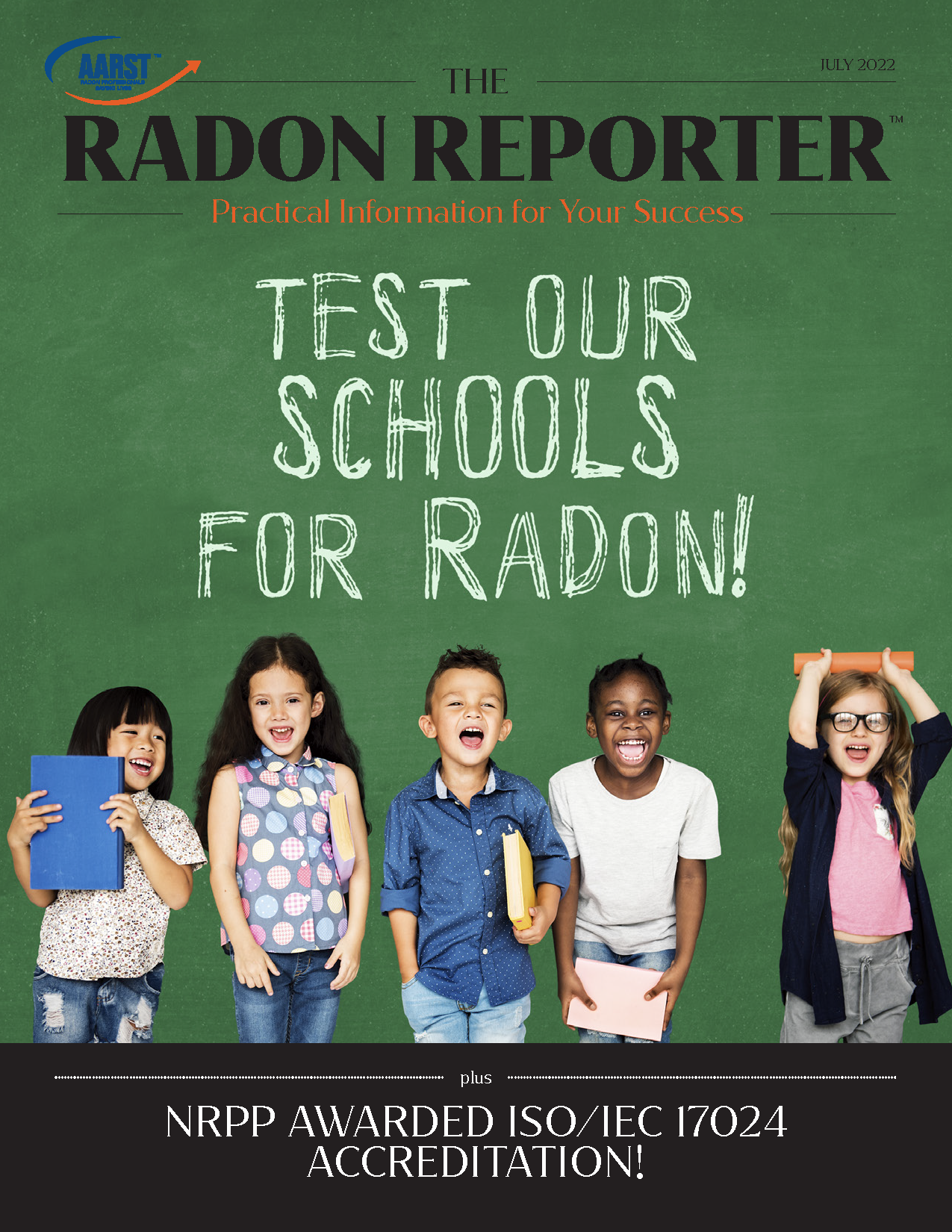 Have you read the latest issue of the Radon Reporter? Get school and childcare facility policy information,  David Gillay's latest VI installment "Regulatory Closure of Contaminated Sites," symposium overview, and updated device specific-training. 
Regulatory Closure Challenges
This is the second in a series of articles focusing on an unseen villain known as vapor intrusion. This article discusses some of the challenges and new tools to secure and maintain regulatory closure of contaminated sites where this pathway is potentially present.
Vapor intrusion (VI) is the migration of volatile chemicals from subsurface soil and groundwater into buildings. It
shares many common characteristics with the intrusion of naturally occurring radon gas into buildings. This emerging
contamination "pathway" has affected thousands of closed and contaminated sites across the country. MORE
NJ DEP Has New Rules Effective Dec. 6, 2022
The New Jersey Department of Environmental Protection and the Commission on Radiation Protection have repealed the existing radon certification program and adopted new rules applicable to individuals and businesses that test for or mitigate radon. The new provisions take effect December 6, 2022.
The ANSI-AARST measurement and mitigation standards (MAH, MAMF, MALB, SGM-SF, RMS-LB, and RMS-LB) have been adopted.
The Department established five categories of certification and an affiliate program that allows individuals to associate with one or more certified businesses to conduct radon testing or mitigation. 

The certifications are radon measurement specialist, radon measurement technician, radon mitigation specialist, radon measurement business, and radon mitigation business.

Currently certified persons and businesses must complete renewal applications by October 3, 2022.

Individuals who perform measurement or mitigation work in multifamily or large buildings are required to complete eight hours of training in multifamily or large buildings (or both if working in both).

The New Jersey-specific exam will be phased out; applicants will be required to pass exams administered by the National Radon Proficiency Program or other organization that the Department determines administers a substantively equivalent examination. The Department will provide a list of approved organizations on its website, www.njradon.org.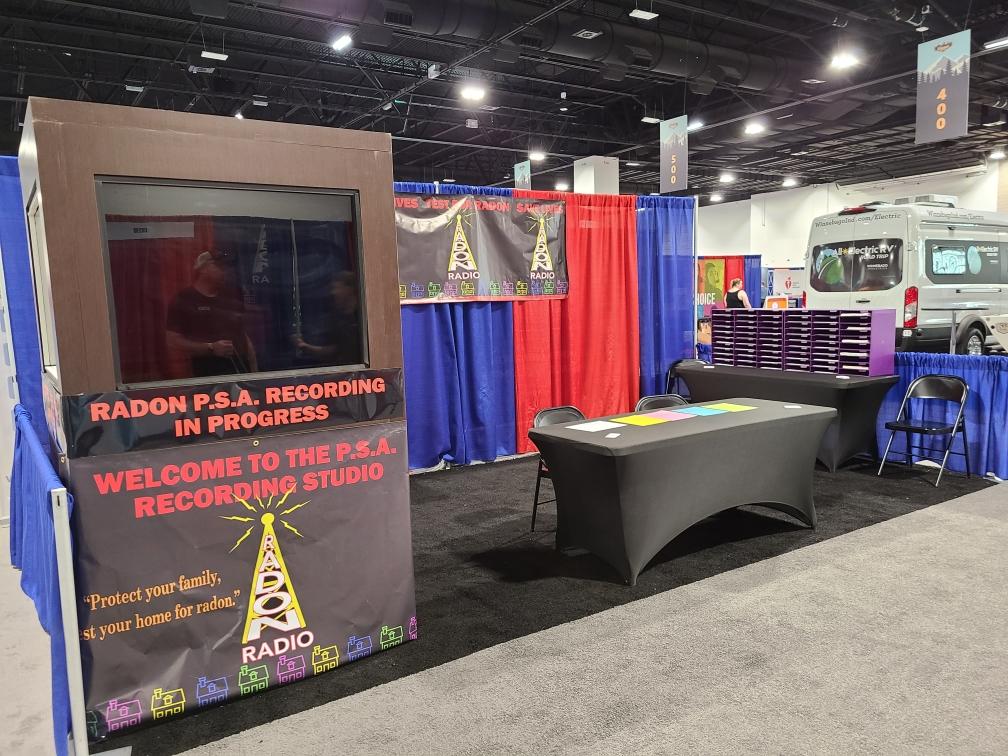 AARST is hosting a booth at the National Conference of State Legislatures' Policy Summit in Denver, August 1-3, to offer state legislators the opportunity to record a radon PSA and engage them in discussion about the possibilities for radon risk reduction through state policy.  
Reminder – CO is Licensing Radon Professionals effective July 1, 2022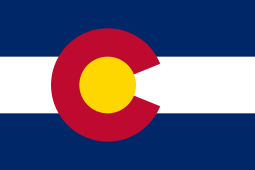 The Colorado Department of Regulatory Affairs is receiving applications.
Background: On June 30, 2021, Governor Jared Polis signed Colorado House Bill 21-1195 (Concerning the regulation of radon professionals, and, in connection therewith, requiring licensure to practice as a radon measurement professional or radon mitigation professional). HB21-1195 requires radon measurement and radon mitigation professionals to become licensed by July 1, 2022, and grants the Director of the Office of Radon Professional regulatory authority to create and enforce the program's rules. Emergency Rules for the Office of Radon Professionals' were adopted on June 28, 2022, to comply with the legislative deadline and became effective on July 1, 2022.
New York State
Newly scheduled NYS AASRT training November 28, 29, 30. NYS stakeholders meeting December 1. Kyle Holyman will be the keynote speaker.
Rocky Mountain
August 1-5- KSU Combined Radon Measurement Professional and Mitigation Specialist NRPP Course, Colorado Springs, CO.
August 10 – RMAARST 3rd Annual Golf Tournament, Arrowhead Golf Course, Littleton, CO. Golfer signup deadline is August 1. MORE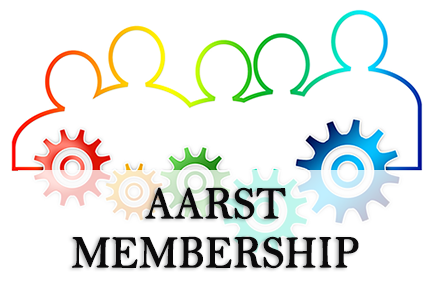 Welcome to Our Newest
 AARST Members!
Aleks Webster (CO), Andrew Thorson (PA), Charlie Gutridge (PA), Jay Sessions (CO), Nathan Gogel (IN), Patrick Pignataro (NJ), Summer Gutridge (PA)
Friends of Bill Rounds are organizing a memorial photo slideshow. If you would like to contribute any photos please contact Peter Ruchti at pruchti@adeptplus.com.
Select Your Email Preferences From AARST
In this fast-growing industry, radon professionals are busy! AARST appreciates the time you give to stay informed. To help you access the most relevant information for your needs, AARST provides you with the option to choose your news preferences. AARST uses Constant Contact as our communication platform.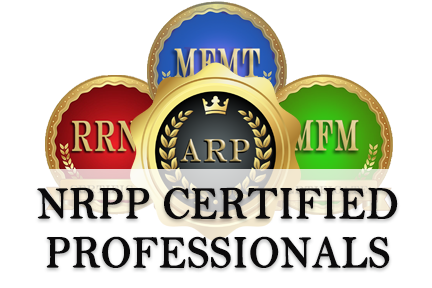 Welcome to Our Newest
NRPP Certified Professionals!
Aaron Wagoner (CO), Adam Bartczak (CO), Alec Stevenson (CO), Alex Smith-Spond (CO), Alexander E Schiedler (OR), Andrew A Weglarz (IN), Andrew Bono (CO), Andrew Linger (CO), B. Kyle Bulmer (KS), Benjamin Sittig (CO), Bo R Sandoval (CO), Bradley Schmidt (MN), Brett A Datteri (CO), Brett Jones (CO), Brian D Notestein (CO), Brian Eastman (WI), Brian J Baltazar (CO), Brian O'Connor (IL), Brian R LaBelle (UT), Brooke L Young (MO), Bryon H Sherburne (CO), Camron Steele (CO), Chad Smith (CO), Christopher Cox (CO), Cody Petersen (CO), Dan Knickerbocker (UT), Daniel Henderson (CO), Dave A Page (CO), David C Geisen (CO), Dustin Snyder (CO), Dylan Margerum (CO), Emily Springer (UT), Eric Andrews (MA), Gerald E Zickefoose (MD), Greg G. Pohlman (CO), Gregory Kanellis (NC), Hart M Minner (VA), Ian Hinterleiter (NJ), Ineta Jokubaitis (IL), Isaac Hollenback (CO), Jack Klein (CO), Jacob Dehart (CO), Jacob Doty (CO), Jacob Schumacher (WI), Jake Schwarz (CO), James D Camp (CO), James E Lampe (CO), Jedaiah Kaessner (CO), Jeff (Jay) Lords (CO), Jeff Hill (CO), Jeff Trousil (CO), Jeffrey Doak (WI), Jeffrey Tomson (IN), Jerod Blomberg (WI), Jessica H Hatch (CO), John A Hummel (CO), John Fanch (CO), John Mettle (VA), John Petty (CO), John Wyatt Walls (MO), Jon K Rudolph (CO), Jonathan Le Vasseur (CO), Jordan Chadrick (CO), Jordan Stains (CO), Joseph A Davis (WI), Joseph Tyler Paul (CO), Joshua Deck (CO), Justin Smith (CO), Keith C Coley (CO), Kevin Dreher (CO), Krista Ross (CO), Kyle Ansel (CO), Lawrence Belland (OR), Lindsay Neitzel (WI), Mackenzie C Wallace (NC), Mark A Maykowski (CO), Matthew Brumbaugh (OH), Michael Bedwell (WI), Michael Boyd (CO), Michelle Brenner (KY), Mike Ladd (CO), Miles Herrmann (CO), Mitchell Johnson (OH), Nathan Bardwell (CO), Nolan B Stowers (CO), Paul J. Fast (CO), Paul Joey Willoughby (CO), PJ Neal (CO), Richard Musselmann (CO), Rick Braun (WI), Robert Bassett (CO), Robert James Waddle (CO), Sean Butvilavicius (CO), Shaun D Fogarty (CO), Shawn Martinez (CO), Slava Krol (WI), Steven S. Press (CO), Thomas C Martinez (CO), Thomas McCarthy (AZ), Tim Hitchcock (IA), Todd Wright (CO), Treese Kjeldsen (CO), Trevor Treglia (NY), Trevor Z Zakrzewski (CO), Troy Donoghue (CO), Tyler Huff (CO), TYLER J Parrish (CO), Victor C Martiny (CO), Wes Hodgden (KS), William D Low (CO), Woodrow Hoffmann (CO), Zach Seawalt (CO)