Vol. 9 No. 11  November 2023
News and Events For the Industry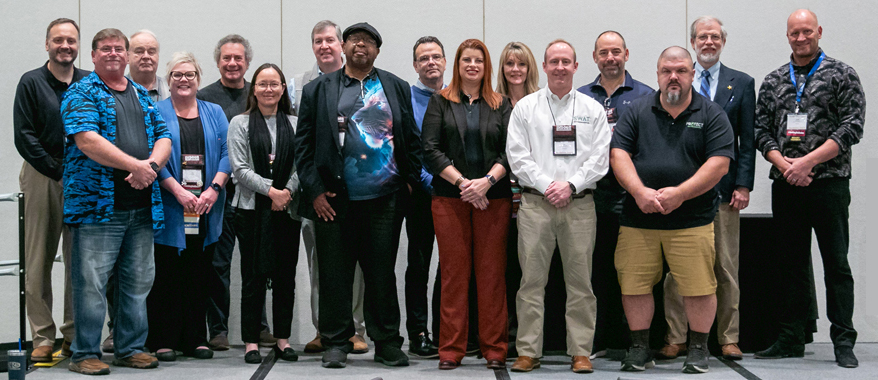 The 2023 Board Election results were announced at the annual association business meeting on October 31, at approximately 1:30 PM in Nashville, TN. Congratulations to: Kyle Hoylman (President), Dave Hill (President-Elect), George Schambach (Vice President), David Gillay (*Vice President), Jan Fisher (Secretary), Dan Potter (Treasurer); Nationally Elected Directors: Lila Beckley, Nate Burden*, Aaron Friedrich, Terry Kerwin*, Dawn Oggier, Kevin Stewart*, Bill Sublette*, Duane West; Chapter Council Directors: Shad Evans, Phil McDonnell*.  (*=New) Missing from Photo: Bryan Coy*, Aaron Fisher.
Important Change to NRPP
CE Requirement is Now in Effect
For NRPP Certification renewals after October 1st, 2023, the CE requirement for each certification includes completion of an NRPP-approved NEW Standard Overview Course for the applicable standard. The start date for this requirement has been extended from July 1st as previously announced due to the delay in the standards' publication.
NRPP-Certified Individuals, Please Note: Radon Measurement Professionals (RMP) will only need to take the measurement standard update course. Radon Mitigation Specialists (RMS) will only need to take the mitigation standard update course. However, if you hold BOTH certifications, then you will need to take BOTH of these courses in order to renew.
To find the NEW Standards Overview courses CLICK HERE
NRPP Certification Council's
Newest Council Members
NRPP would like to welcome the new members of the Certification Council:
Dawn Coffee, representing Residential Radon Measurement
Cynthia Costello, representing Non-certified States
Brian Hanson, representing Radon Chambers
Chad Robinson, representing Residential Radon Mitigation
The Consumer Interests and Radon Mitigation – Large Buildings seats are open. If you are interested in one of these seats or know someone who is, please follow this link for more information and to apply.
NRPP Measurement Exams Resume

NRPP is again offering Radon Measurement Professional and Field Technician Exams. These measurement exams are pilot tests that will cost test-takers 50% off the normal price; they will not be scored until a sufficient number of people have taken them. We estimate that it will take until December 15 to achieve this volume. The more people who take the test, the sooner the pilot testing process will be over and the sooner we can score the exams and release the results.
For more information on the pilot testing process please VISIT this link. 

The Lowe's MVP Pro Program puts money back in your "wallet" – literally
Are ALL YOUR cards current and updated in your Lowe's Wallet? If they aren't you are missing out on:
5% off on Lowe's Commercial Accounts
Up to 15% by using the online shopping platform
Digital rewards and gift cards in your Lowe's Wallet
Skip the Pro Desk by utilizing the Purchase Authorization Tool in the MVP Wallet
Not in the AARST MVP Program yet? Signing in to your AARST Member Dashboard and connecting your account is easy.
NRPP Volunteer Radon Experts Needed
NRPP is seeking volunteer subject matter experts for a number of its certification activities. We rely on the expertise of radon practitioners in the development of all our certification activities. Our programs are designed by the radon industry, for the radon industry, and we have a number of ongoing and future opportunities available. 
We are in search of volunteers who would like to get involved in the certification development process which includes serving on a JTA (job task analysis) panel, writing and reviewing test questions for the various exams, and setting the passing scores on future exams. Detailed descriptions of these tasks can be found on the recruitment form here, which must be completed if you are interested in participating in any of these. We will contact you when we are actively recruiting for each task and, if you are no longer available or interested at that time, just let us know. 
FREE ANSI/AARST Standards
New AARST Member Benefit!
AARST is now providing association members with free access to current and previous standards in both licensed PDF format and searchable Flipbook format. AARST members are able to access these versions whenever they are logged in to the MY ACCOUNT section of the website at the Standards Library.
Members of the public will continue to have free access to non-searchable flipbooks and PDF versions at standards.aarst.org
Earlier versions: Because some states have adopted a previous version of standards, these are also still available in Flipbooks and for purchase.
Invitation for Volunteers:




AARST STANDARDS CONSORTIUM
Who: NEW state and federal reps, educators, public health pros (NGOs), proficiency program pros, other stakeholders including but not limited to measurement and mitigation pros, manufacturers, and consultants for the Mitigation, Water, Measurement, QA, and Executive Stakeholder Committees
Why: CE credits, professional connections, having your voice heard, and giving back to the industry
Deadline for nomination or application: Extended – nominate (yourself or someone else) or check out the website below. Please review the qualifications HERE
When: one 90-minute meeting every 2 weeks
Improper Contracting for Multifamily Radon Services?
NEW!  AARST is now accepting reports of improper contracting for multifamily radon services. "Improper" is defined as radon projects where the solicited/contracted scope of work is in violation of an applicable state law or regulation or radon standard, such as testing less than 100% ground-contact units.
Two versions of the form are available:
Google form (posts to AARST staff automatically)
MS Word (download, fill out, and attach to an email to nationalpolicy@aarst.org)
In the October issue, articles include:
Chapter Report
2023 Election Ballot
Indoor Environments 2023 – Agenda
Comparison of Single-Family Mitigation
Standards
NRPP Updates
FHFA and GSEs' Multifamily Radon Policy
Hiring Tips for Today's Market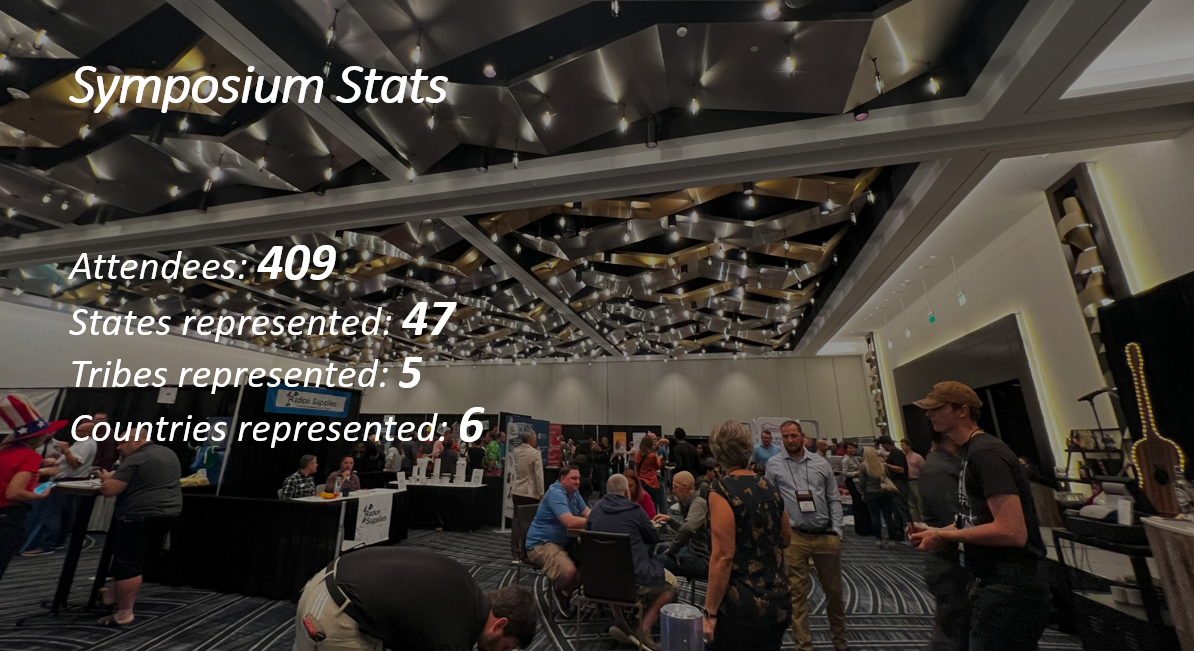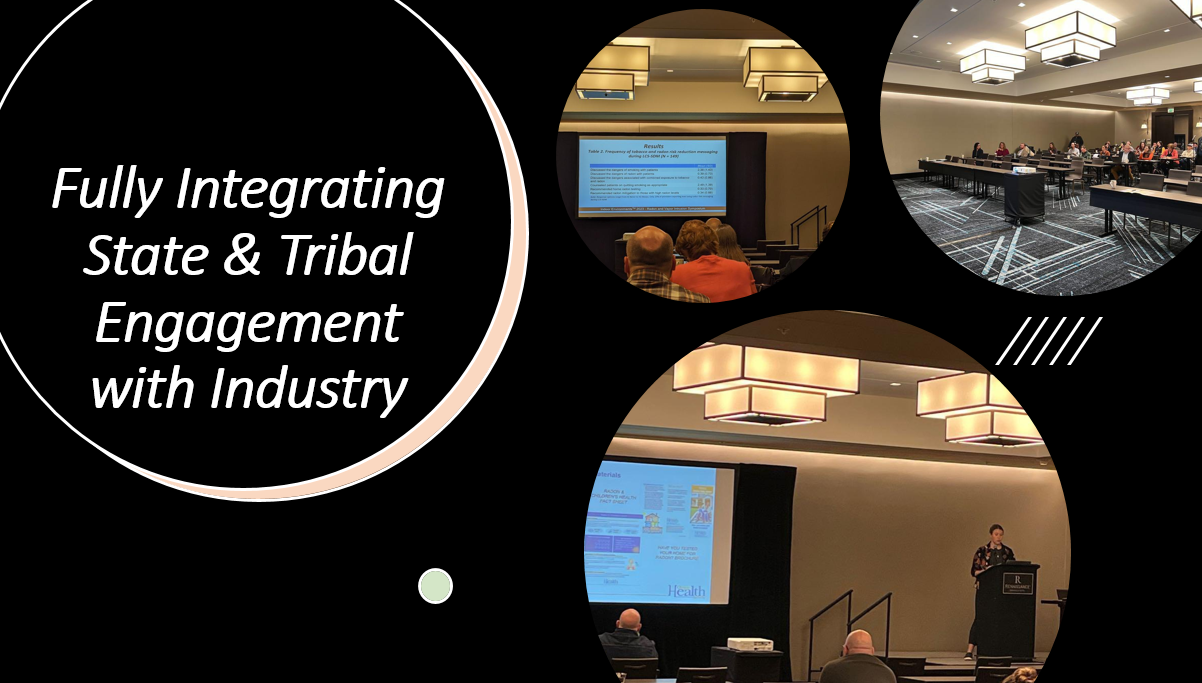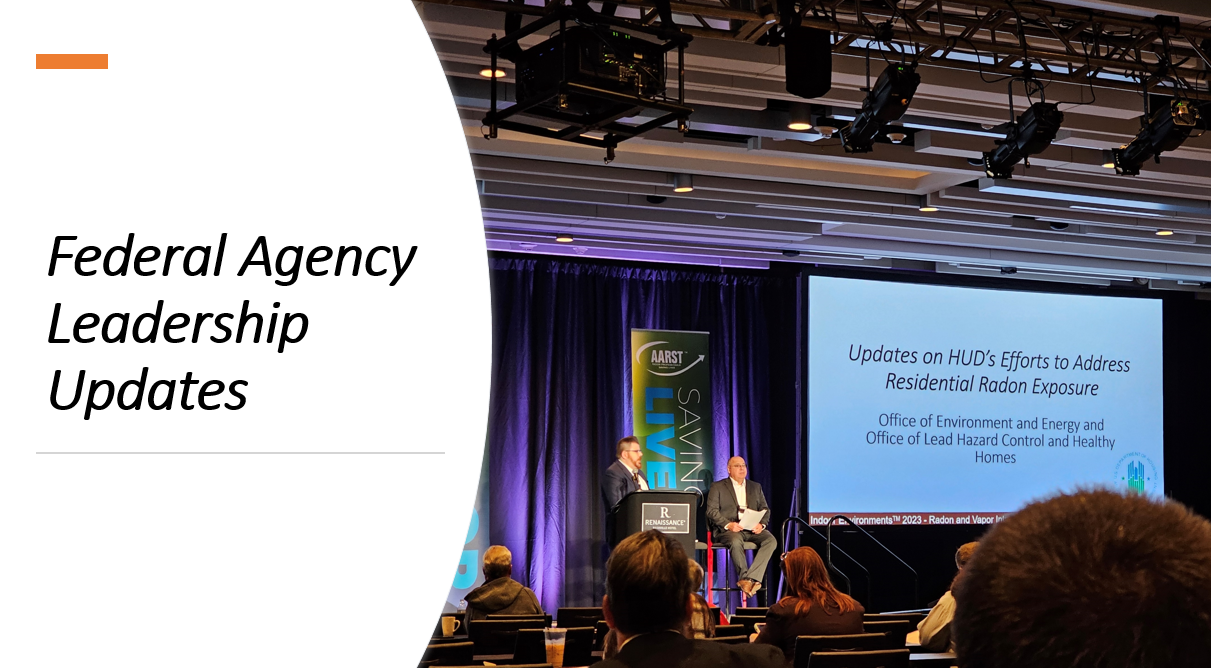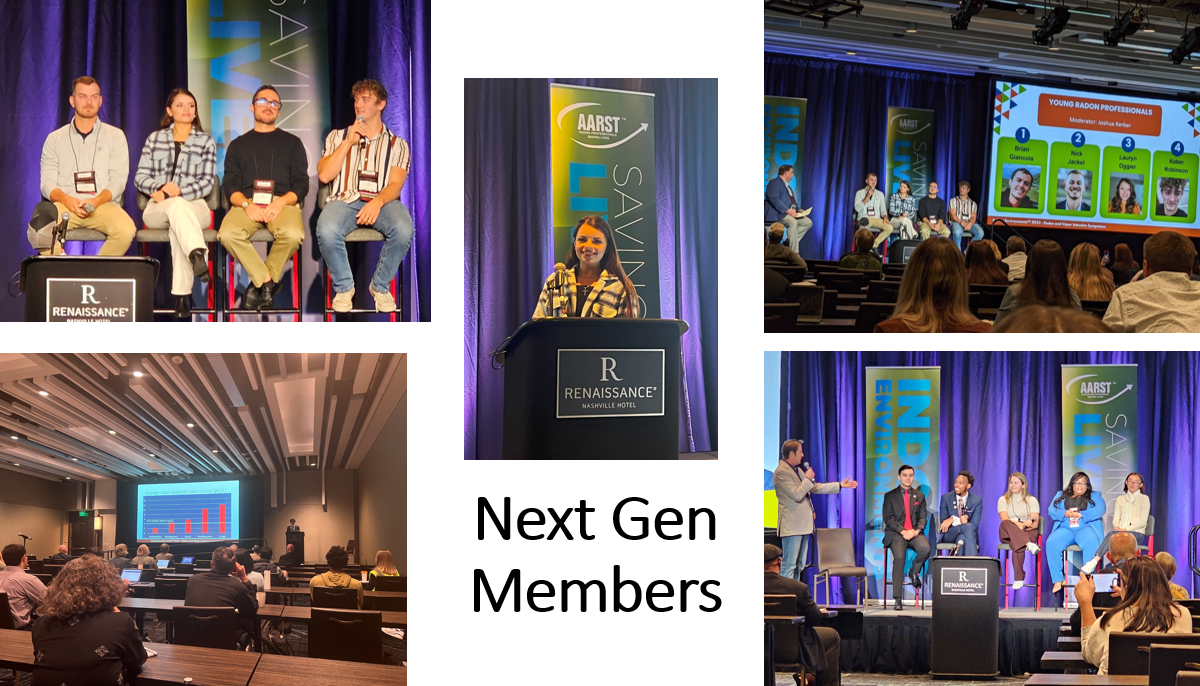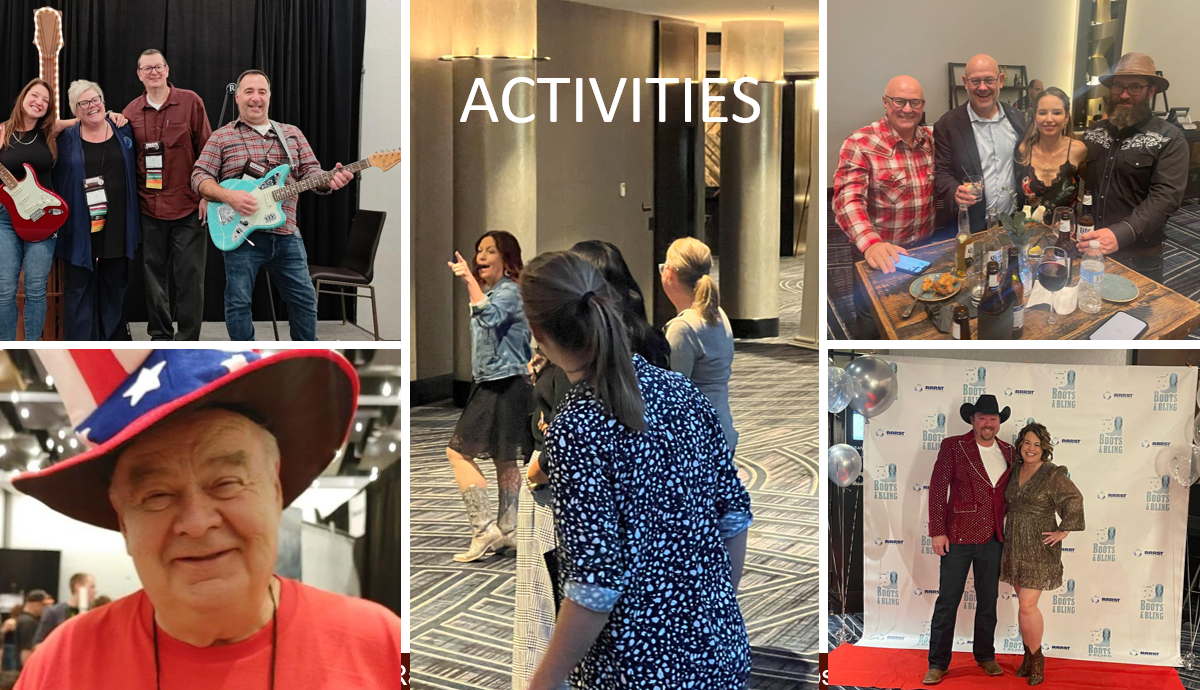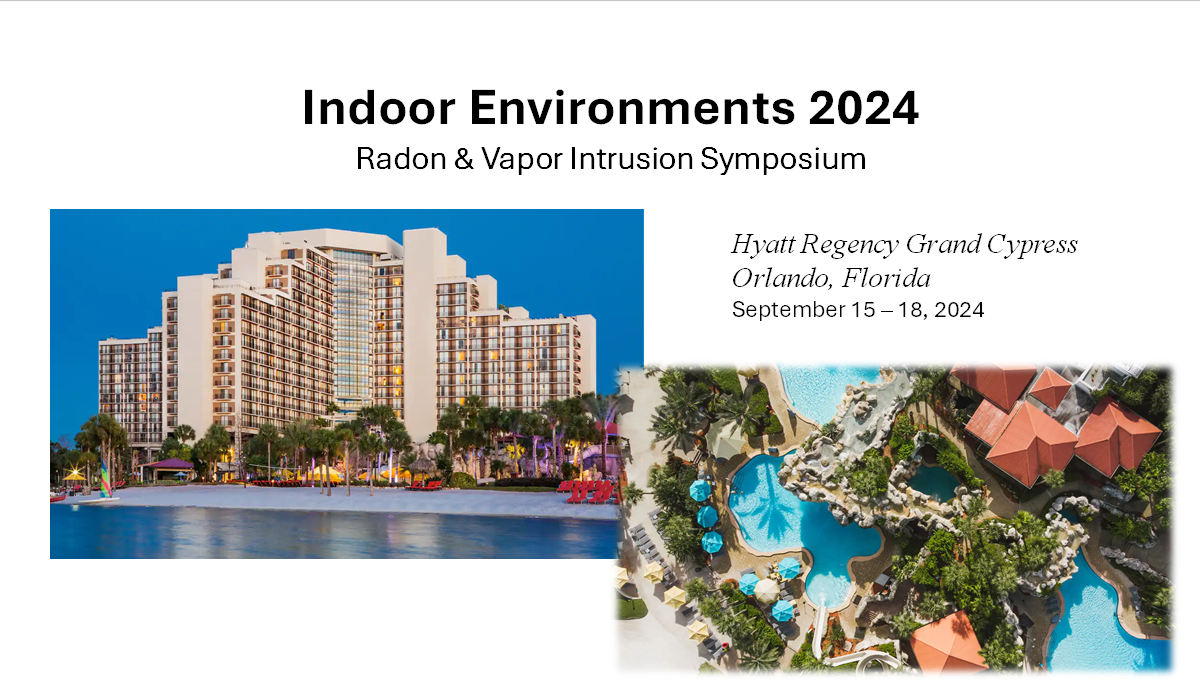 Welcome to Our Newest


 

AARST Members!
Andreas Johnsen (OH), Andrew F Barnes (CO), Andrew G Wilson (NC), Anthony Fresquez (WI), Brady M. Sexton (ND), Brandon Goers (CO), Brandon Ruppenthal (CO), Brian C Folse (LA), Brian Eastman (WI), Chris Hank (CO), Coalan Gatts (OH), Cody J Jones (CO), Darriel Bratton (CO), Donna Grime (MO), Douglas Dunham (WI), Dustin Welch (WI), Dylan Strawser (OH), Eric Starszak (CO), James Evans (WI), James Ford (WI), James Sweeney (TX), Jimmy Nyassanga (WI), John Telesco (WI), Jordan Archer (IA), Joseph Miller (GA), Justin Luker (UT), Lee (CO), LEVI GROSS (CO), Mariah Ford (TX), Mark Seyfried (WI), Mendrake Sayee (WI), Michael Bedwell (WI), Michael J Devir (IN), Nathan Wuerstle (PA), Nicholas Shed (CO), Nicholas Wlodarczyk (WI), Riley Patrick Doyle (TN), Robert Mauser (CO), Robert Seckerson (WI), Ronal M Thomas (LA), Ryan M Koble (ND), Shawn Elswick (MI), Terrence Traylor (WI), Victor Jaszczyk (CO), Zack Aiello (MO)
Welcome to Our Newest


NRPP-Certified Professionals!
Abagail Willis (CO), Alan J Ramon Piloso (CT), Alexander M St.Clair (CO), Andrew K Larson (CO), Axel Asander (CO), David Hanley (NC), Edward Kolisar (OH), Gregory S Rush (UT), Joshua Estes (AR), Joshua Foote (KY), Kyle P Finley (KY), Margaret Horton (CO), Michael J Lyons (IN), Nicholas Galloway (UT), Nick Jackel (TN), Ryan Lentz (CO), Shaun Wilson (MI), Shawn Brown (WY), Shawn Martinez (CO), Stephen N Ellis (NC), Steven Sisneros (CO), Tate B Coulter (CO), Taylor Moore (AR), Tyler Curlin-Dunda (CO), Zack Aiello (MO)
Editorial Content Wanted: AARST publishes content over two platforms. We are interested in radon and vapor intrusion interest stories, technical papers, business topics, health advancements/detection in regard to radon-related issues, and more. Please submit content for consideration to editor@aarst.org.
AARST is a nonprofit, professional organization of members who are dedicated to the highest standard of excellence and ethical performance of hazard identification and abatement of radon, chemical vapor intrusion, and other contaminants of concern in the built environment. The organization primarily strives to advance the interests of its members through developing industry standards, certifying technical proficiency, enabling advancement of public policy, and communicating health risks to the public.  – Revised mission statement, February 2023