Vol. 9 No. 4  April 2023
News and Events For the Industry
Indoor Environments

™

  2023 –
Radon and Vapor Intrusion Symposium
Proposals and Abstracts

Due May 31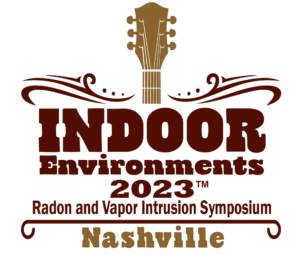 The Call for Proposals and Abstracts for the Indoor Environments™ 2023 – Radon and Vapor Intrusion Symposium  (formerly AARST International Radon and Vapor Intrusion Symposium). The 37th annual symposium will occur in Nashville,  October 29 – November 1, 2023.  MORE
AARST is rebranding to Indoor Environments Association™ to formally adopt work already started on chemical vapor intrusion and pursue efforts focused on other contaminants of concern in the built environment while maintaining significant attention to radon, the second leading cause of lung cancer. Attendant to that decision, the symposium is being rebranded this year as Indoor Environments 2023™ – The Radon and Vapor Intrusion Symposium. Over the next 12 months, the association's website, logo, and public identity will change to align with the organization's recently revised mission statement. READ THE PRESS RELEASE
Opportunity to Comment:  HUD Policy

HUD has released a draft new department-wide radon testing policy that recommends radon testing and does not require adherence to consensus standards or performance of initial measurement or mitigation by a qualified radon professional.
The decade of experience with multifamily lending program radon policy is the model for public policy addressing the dangers of radon. Public housing residents, home buyers, beneficiaries of block grant programs, and others reached by HUD's other programs deserve the same protection from radon that is offered by HUD's multifamily loan programs.
AARST encourages members to submit a comment to HUD by Friday April 14, 2023 through the online docket. View AARST's draft comment.

Q: What guidance would a HUD grantee … need to successfully identify and mitigate radon?
A:  HUD grantees should ensure the use of "current techniques by qualified professionals" as required by 24 CFR 58.5(i)(2)(iv). Contracting with one of the thousands of radon professionals already credentialed by an EPA-recognized proficiency program such as NRPP and by the state regulatory agency as applicable, all of which require adherence to legitimate consensus standards, is one option. Another option is to build in-house capacity by getting staff properly trained and credentialed by an EPA-recognized proficiency program and state regulator as applicable. HUD grantees should not take the public health risk and incur the potential legal liability of having unqualified persons using substandard methods to identify or mitigate radon.
Attention: States, Tribes & Territories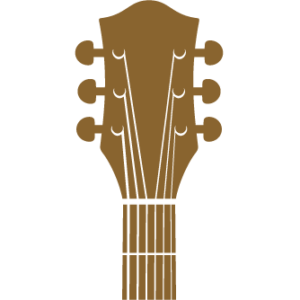 There will be a concurrent track at the AARST Symposium from October 29th – November 1st, 2023 for states, tribes and territories. This replaces the event formerly known as CRCPD National Training Meeting.
PRESENTATION PROPOSALS / ABSTRACTS
Those who wish to present should refer to the Symposium guidelines. The deadline for submission is May 31.
BOOK YOUR HOTEL ROOM Through the AARST Room Block

EPA Credentialing – Comments Needed

EPA announced its Proposed Radon Credentialing Criteria to help align and ensure consistency across credentialing programs operated by certification programs (such as NRPP) and states, based on standards, organizational and program-specific competencies, and third-party accreditation to ISO 17024. To be implemented over three years, the proposed framework could harmonize practices and policies and expand consumer trust and confidence in the radon service provider industry.
There will be a briefing Wednesday, April 12 at 1 PM ET – register HERE.
Comments are being accepted through May 22.
Indoor Environments

™

  2023 –
Radon and Vapor Intrusion Symposium


Exhibitors: Don't Miss out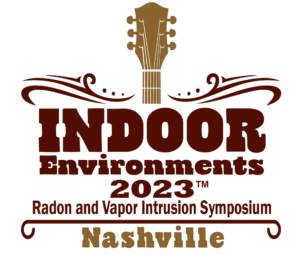 The Exhibitor/Sponsor Prospectus was launched last week for the Indoor Environments™ 2023 – Radon and Vapor Intrusion Symposium  (formerly AARST International Radon and Vapor Intrusion Symposium). Visit the Exhibitor pages to preview the exhibit floor, and Sponsor Opportunities. Show days October 29 (Opening Reception) – October 31, (set-up October 28-October 29th AM) Join us in #rockingoutradon
Chapters and Regions are planning meetings! Save the dates:
EPA Region 8 – Apr. 20-21, Stakeholder Meeting/C.E., Westminster, CO
EPA Region 4 – May 22-23, C.E. / Stakeholder Meeting Nashville, TN
NEAARST Chapter – Jun. 8-9, Meeting/C.E., Portsmouth, NH
OARP Chapter – April 27, C.E. Virtual
OARP – Jun. 28, Annual Radon Awareness Golf Outing, Sunbury, OH
Standards Volunteers Needed
New standards committee members are always welcome. Anyone interested in participating in a committee should review the bylaws, especially Annex D, Nomination and Approval Procedures for Consortium Committee Members, and Annex H, Code of Conduct before applying. The Consortium Bylaws describe how standards committees work, the criteria for, and how members are nominated.
New standards committees for Operation, Maintenance and Monitoring and Mitigation of Radon in Water have recently started meeting with a few seats still open. The committees for existing standards (Measurement, Measurement Quality Assurance, Mitigation, and New Construction) are being re-seated for the 2023-2025 term now.
To apply, visit Standards Participation. Questions can be directed to radonstandards@gmail.com.


NASHVILLE SYMPOSIUM HOTEL ROOM BLOCK IS NOW OPEN!
Join AARST in Nashville for Indoor Environments 2023. Book your discounted room at the Renaissance Nashville Hotel today. BOOK HERE
Request from NRPP:
Certification Surveys

Survey Responses Needed NRPP is still surveying individuals who completed multifamily measurement and mitigation courses about the skills and experience necessary for NRPP's new commercial certifications (which will cover multifamily, school, mixed-use, and large buildings).
NRPP needs more participants' info to keep the process moving forward. If you received the survey request in mid-January, please complete the survey. PLEASE email certification@nrpp.info if you can't find the original email request and we will send the link.
Health & Radon Conversations
Welcome to Our Newest
 AARST Members!
Aaron Simonye (CO), Brian O'Connor (IL), Crystal Kunz (MI), Daniel C Buske (IL), Daniel Hunsaker (IL), David Scharer (IA), Edward Benoit (VT), Frank Vizza (IL), Iann Eliason (IL), James Marody (CO), Jared McAfee (UT), John Vruno (MN), Jon McCreath (NE), Joseph DiCianni (IL), Kelly Mccusker (IL), Laura M Ferlita (IL), Lora Gilbert (IL), Maria Peterson (IL), Marleigh M Mitchum (FL), Matthew G Emanuels (IL), Michael Christerson (IL), Mike Solomon (MN), Nicholas C. Nicholas (IL), Paige Livingston (CO), Robert Burke (IL), Scott Spaulding (OR), Steven Henningsen (IL), Terry Ross (FL), Tim Taylor (IL), Wanderson Silva (WV)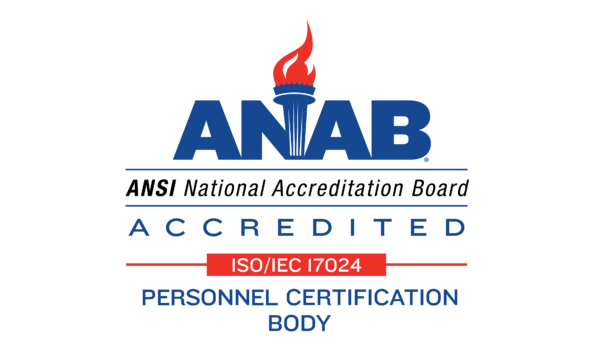 Welcome to Our Newest
NRPP Certified Professionals!
Aaron M Caudill (CO), Alejandro Limones (CO), Amber Johnson (NM), Angelo Spalluto (NJ), Anthony Marco Valdez (TX), Aubrey L Trudell (MI), Blake Seagraves (IL), Bradin Ball (CO), carlos j Honore (IA), Charles R Schwaab (MO), Cody Mertens (WI), Cody Petersen (TX), Colton L Barber (OR), Craig Burden (ID), Dane A Shaffer Jr (CO), Daniel A Rowe (IN), Dewayne Hunter (GA), Edward R. Morrison (CO), Erin Dittman (MD), Geremey N Engle (VA), Grant M Smith (MI), Jacob A Cooke (CO), Jacob M Corrigan (CO), Jacob Smith (NY), jarel melendez (PA), Jason Lee (TN), Jason S Barnett (MO), Jeffrey Pearson (CO), Jeffrey Ring (WI), Jennifer L Thorne (MT), Jodi Linsey (CO), John Noe (VA), Jonathan Green (WA), Jonathan Miranda (OR), Jose E Munoz Juarez (UT), Joshua R Hatfield (IN), Kimberley A. Waldron (CO), Marcis Curtis (ME), Mark J Bonfield (CO), Matt Abell (PA), Matthew Barker (OR), Matthew Schreiber (NY), Michael Christophides (NY), Michael G Fletcher (IL), Michael Partlow (NY), Nathan A Amato (VT), Nathan Schultens (OR), NICK R AMBROSIO (CO), Noah D Couch (IN), Randy G Scheer (ID), Rhet Deroest (UT), Ricardo N Salas (TX), Stephen James (UT), Tamia J Pettigrew (MI), Taylor S McNeese (AL), Thomas Rogers (IL), Toni J Felix (VA), William Thomas (CO)
AARST is a nonprofit, professional organization of members who are dedicated to the highest standard of excellence and ethical performance of hazard identification and abatement of radon, chemical vapor intrusion, and other contaminants of concern in the built environment. The organization primarily strives to advance the interests of its members through developing industry standards, certifying technical proficiency, enabling advancement of public policy, and communicating health risks to the public.  – Revised mission statement, February 2023 
Editorial Content Wanted: AARST publishes content over two platforms. We are interested in radon and vapor intrusion interest stories, technical papers, business topics, health advancements/detection in regard to radon-related issues, and more. Please submit content for consideration to editor@aarst.org.